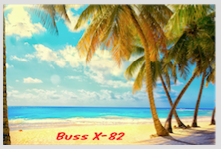 What Does It Do
Buss X-82 is a new compression program. It will compress files of any size down to only a few KB. For example a 10 MB file or even a 875 MB file will be reduced in size to about 8 KB.
---
What File Types
Buss X-82 will compress files with the following extensions:

ZIP, DMG, JPEG, PICT, TIFF, PNG, GIF


---
Requirements
Buss X-82 will currently run on:

macOS desktop computers
OS X 10.7 - 10.12

The following will be added soon!

• Linux
• Windows
• mobile devices
• and iPads

---
How Much Does It Cost
Buss X-82 sells for $14.99

Release Date:
Late 2019 >>> Early 2020

No In-App Purchases!